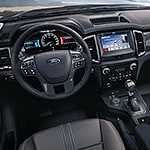 The new Ford Ranger is a piece of automotive excellence, and here is why. This new pickup can seat up to five people, and it comes in various trim levels. This includes the Lariat, XLT, and XL. Ford also offers this machine in a number of exterior colors.
The new Ford Ranger comes equipped with a powerful 2.3-liter engine. Of course, this is an EcoBoost engine, and it possesses twin-scroll turbocharging. Instant acceleration can be expected, and the power remains throughout the powerband. When it comes to rocky terrain, the Ford Ranger will give you confidence. This truck has a raised ground clearance. In addition to that, the undercarriage is built from steel. The overall frame of the truck is built from high-strength steel. There are also 270 ponies that are stuffed under the hood.
Our representatives are waiting to get you situated behind the wheel of the new Ford Ranger, so don't keep us waiting.